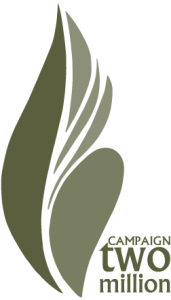 CLASS Fund reached its thirty (30) year goal of attaining $1,000,000 in its Endowment in 2010. Now, after thirty years, CLASS Fund's next quest is Campaign $2Million!
With the vision of (1) telling our story to a broader audience and (2) further impacting the 'green' industry by providing a significant Research/Program Grant to accredited landscape architecture and industry related programs in the United States.
The first such grant of $100,000 was presented to Cal Poly Pomona at the 2011 Council of Educators in Landscape Architecture (CELA) Annual Conference for its CCLAWS (California Center for Land and Water Stewardship) Program; an outgrowth from the collaborative project entitled "The Golden Necklace" (2008), a vision for a multi-use trail and open space system extending from the San Gabriel Mountains to the Pacific Ocean. CCLAWS creates an opportunity for faculty, students, governments, organizations, and individuals to collaborate on applied research in land conservation, stewardship, resource restoration, watershed management, environmental design, and interdisciplinary research.
CLASS is earnestly seeking donations in amounts between $5,000 and $100,000 (in increments of $5,000). Our sincere hope is that this next $1M will not take the thirty (30) years that the first $1M did. Funds received noted for Campaign $2M will be directly deposited into our existing Endowment at Beacon Point (and not used for annual operations or expenses). CLASS Fund is administered by volunteers and employs only one part-time staff person.
THANK YOU
To Our Endowment Donors
BrightView Landscape Development